As a nursing student, you will be assigned to write a concept map either as a stand-alone assignment or as part of your nursing coursework.
A nursing concept map is a visual model that outlines the relationship between different nursing concepts. Clinical concept mapping improves critical thinking and decision-making among nursing students. Concept mapping also fosters long-term learning among nursing students and is preferred by nursing educators as a content delivery mechanism or part of assignments.
Using concept maps, nursing students can break down large topics into smaller sections to help them understand concepts and relationships. This means that you can use them when revising your nursing notes in preparation for exams (NCLEX or nursing school exams), especially if you are a kinesthetic/tactile learner. Doing concept maps in nursing school additionally promotes higher-level thinking, which helps grasp nursing theories and concepts.
The gist of this article is to help you create a basic concept map, which you can do using Microsoft Word. But even before, if you need help with your nursing class, you can get it ASAP.
Steps for Creating a Nursing Concept Map
There are many types of nursing concept maps that nursing students can draw. They include charts, tables, spider maps, hierarchical maps, flow charts, graphic organizers, mind maps, timelines, Venn diagrams, timelines, system maps, or T-charts. However, the key focus of this guide is to draw a basic concept map for your nursing coursework or revision.
Given the understanding of what nursing concept maps are, you now need to know how to create a concept map. Here are the steps to take.
1. Note down the main subject or topic
At the core of making a nursing concept map is the main topic or subject; everything else is about it. When you choose the main topic or subject, you get to brainstorm about the other concepts connected to it. Your main subject can be many things among them being medical diagnosis, SBAR, nursing responsibilities, or patient care plan, which translates to different types of common nursing concept maps in nursing school.
A patient care plan concept map focuses on the aspects that are relevant to patient care from medical history to risk factors and management or interventions. These concept maps are meant to help nurses make clinical judgments and adopt the right care plan given the patient's condition.
The nursing responsibilities concept map is meant to delineate the duties and tasks of nurses and other members of an Interprofessional care team. It could focus on the tasks of a specific nurse or a healthcare practitioner or a group of nurses or healthcare practitioners. It helps group elements like post-op care, behavior response, prevention of infection, management of wounds, etc.
A medical diagnosis concept map looks at all the elements of the diagnosis of a condition or a disease. It focuses mostly on the etiology, risk factors, pathophysiology, pathology, medications, symptoms, complications, and interventions.
You can also be asked to make an SBAR concept map, which entails a representation of all the information that nurses need to communicate smoothly in clinical settings, specifically focusing on communications between nurses and doctors.
2. Determine the secondary subsection
After you have decided on the topic or subject, you have to come up with the subsections related to it. You will group them around the subject and draw arrows showing the relationship they have to the subject. For instance, if you are drawing a medical diagnosis concept map, the disease or condition will be the subject. Aspects such as etiology, risk factors, pathophysiology, interventions, complications, symptoms, nursing implications, and medication and management. You can use text boxes in the word processor for the respective subsections and the subject/main topic.
3. List the main information for the subsections
After mapping out the subsections, you need to fill in the information for the respective section.
A good approach is to research and take shorthand notes. Mostly, instructors or professors prefer that you cite the source of information. If that is the case, ensure that you use peer-reviewed nursing journals and other scholarly sources written within the last 5 years.
Because you had just listed the main sub-topics of the subsections, in this step you populate the subsection with information. For instance, if you are talking about the risk factors of CHF, you need to list the risk factors and give the exact citation.
4. Make a Connection between Concepts
After including all the main sections and subsections in your concept map and designing the shapes, you need to show the relationships between the concepts. You should use the arrows or lines that begin from the main point to a subsection. You will see this shortly in the template examples included in this article. In many cases, an instructor might require you to accompany your concept map with a few paragraphs that expound on the concepts and information you have visually presented. You will find yourself writing a nursing essay or research paper with detailed information such as pathophysiology, etiology, epidemiology, management and treatment (interventions), patient education, etc.
Some instructors and professors prefer that the concept maps are created in Microsoft Word, MS Publisher, or PowerPoint Slides. However, some also allow the use of third-party concept mapping tools such as GitMind, MindMeister, and Draw.Io, among others.
Nursing Concept Map Template & Examples
We have included templates and examples below to help synthesize the information about creating nursing concept maps.
Here is a concept map example for Covid-19. Note that there is no designated way of presenting concept maps. You can use any shape or styles if your map visually details the clinical or nursing concepts.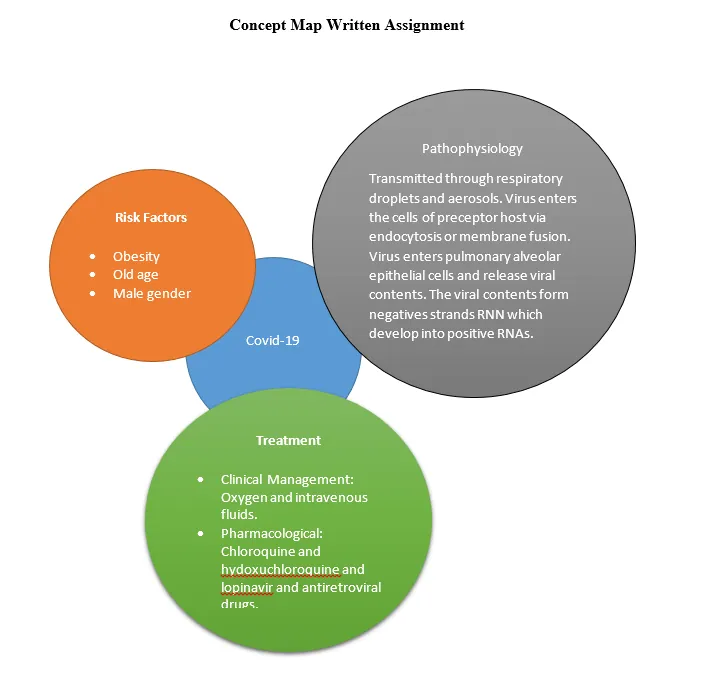 Below are two examples of nursing student concept map templates. We can send you a downloadable free nursing concept map template for Microsoft word that you can fill in and use.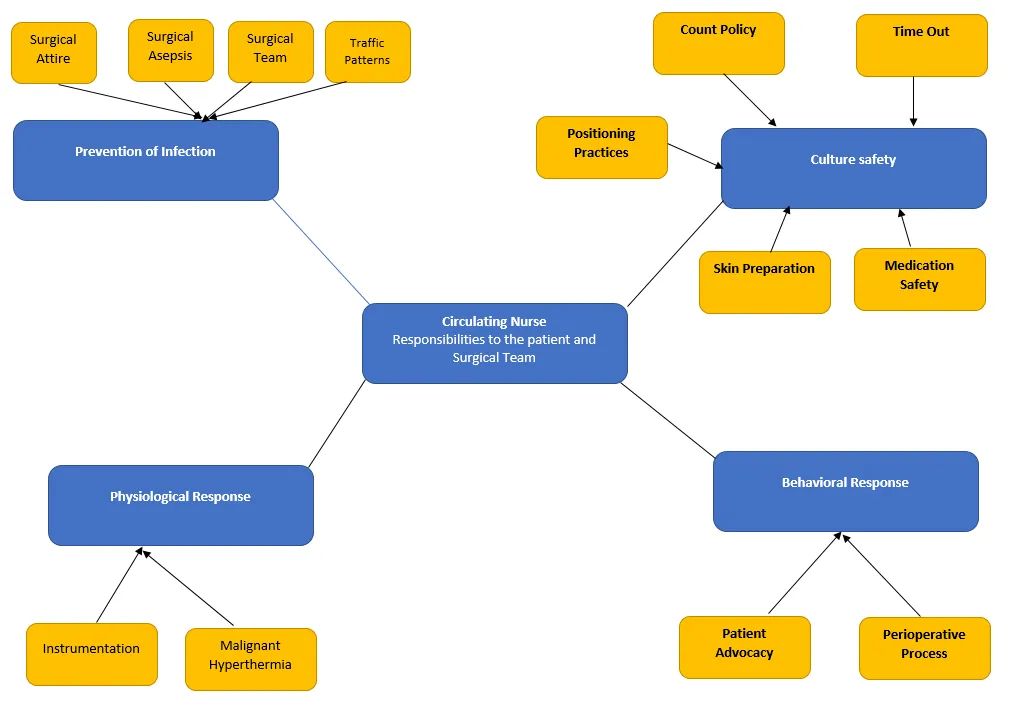 Care Plan Concept Map Example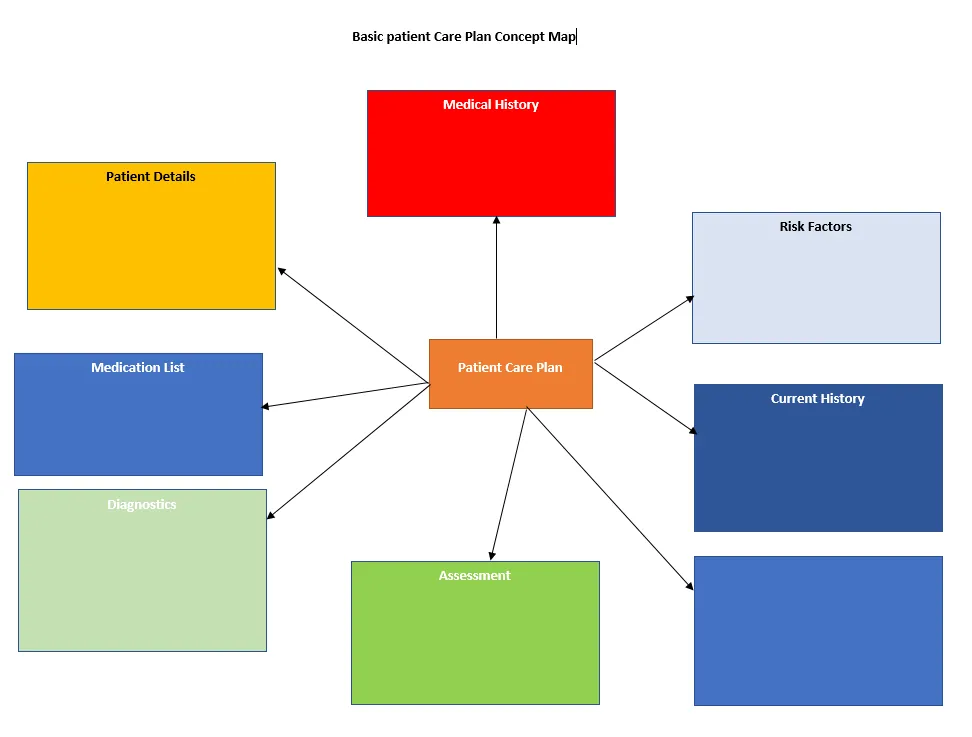 To make it even simpler, below is a video that demonstrates how to create a concept map for nursing school, be it for revision or coursework fulfillment purposes.
Video
Parting Shot
Nursing concept maps can come in handy during revising concepts that are hard to capture in one reading. Breaking down such topics into smaller chunks that are visually represented helps you to master the concepts. Concept mapping also helps in improving clinical decision-making and clinical judgment. It also helps you to see the big picture as regards the steps needed to achieve high-quality patient care.
Related Reading:
If you need help designing a concept map, we have well-informed and qualified writers to help. You can take advantage of our concept map writing services. Someone specialized in your field of study will handle your order. Do not struggle with designing concept maps when someone can help you. Our charges are flexible and affordable.